This is a streamlined course to take you from knowing the basics about SOLIDWORKS to give you all the knowledge and skills needed to become a certified SOLIDWORKS Professional (CSWP). This course will enable you to, with confidence, use SOLIDWORKS to design complex innovations and draft complex models. After this course, you can proudly list your advanced SOLIDWORKS skills in your resume.
What you'll learn
How to use the advanced features Draft, Shell, Rib, and Features Mirroring.
How to use internationally defined standards to create holes and slots.
How to create a new Coordinate system and utilize it in Mass properties.
How to link dimensions in parts using equations.
How to create a part with more than one body (multi-body part) and how to take advantage of this approach.
How to specify features application to one body over another.
How to utilize Design Tables to create multiple configurations of the same model.
How to manually create model configurations, each with different applied features.
How to use the advanced mates Profile Center, Symmetric, Width, Path Mate, Linear/Linear coupler, and Distance & Angle ranges.
How to link different dimensions in different parts using in-context features.
How to apply Assembly Features, and what is the design intent of doing that.
How to use collision and interference detection.
How to replace parts in an assembly and transfer all active mates.
Who this course is for:
Individuals intending to gain higher understanding and mastery of SOLIDWORKS
Individuals intending to take SOLIDWORKS Professional Certificate (CSWP)
Individuals wanting to get a better job via SOLIDWOKRS skills
Individuals wanting to list SOLIDWORKS skills in their resume
Designers, Engineers, Makers, and Hobbyist
This course includes:
4 hours on-demand video
19 articles
38 downloadable resources
Full lifetime access
Access on mobile and TV
Certificate of completion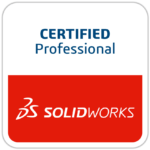 SOLIDWORKS Hands-on Training: Go from the Associate level to the Professional (CSWP) level