PMBOK® Guide Statistics: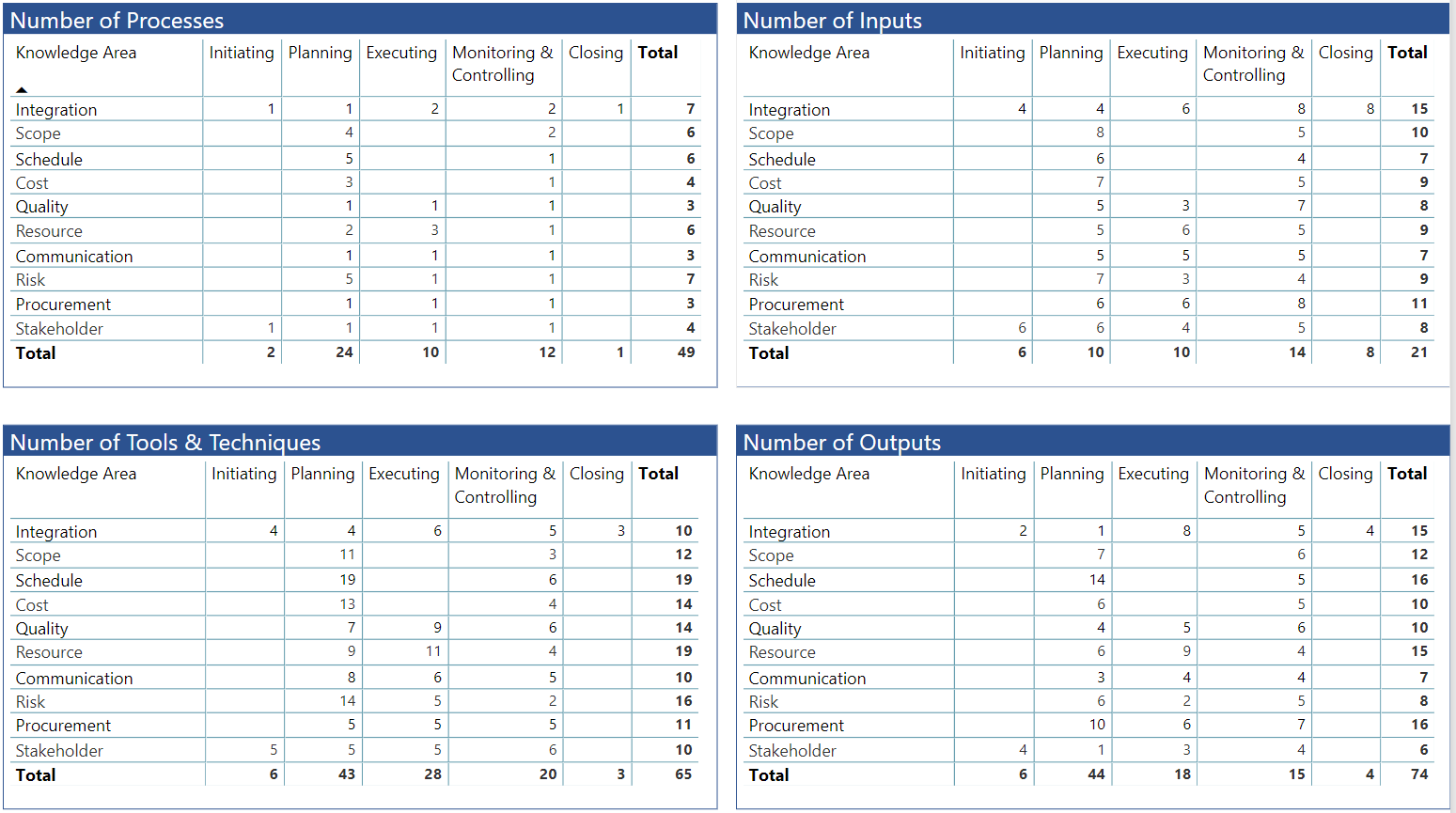 ---
PMBOK GUIDE 6th EDITION DASHBOARDS
Dashboard 1: ITTOs Drilldown
Filter processes by 'Process Group' and/or 'Knowledge Area'
Select a single process from the table to display 'ITTOs' related to only the selected process.
The 'Inputs', 'Tools and Techniques' and 'Outputs' also display the documents and tools used.
---
Dashboard 2: Processes Data Flow Summary
Displays the number of Predecessor processess, Inputs, Tool & Techniques and Outputs of all the 49 PMBOK Guide 6th edition processes.
Notice, there are some processes which do not have any Predecessor processes.
Some processes do not have Successor processes
There are also a few processes, which do not have any Predecessor or Successor processes.
All processes have Inputs and Outputs though.
---
Dashboard 3: PMBOK Guide Tools & Techniques Groups
PMBOK Guide 6th edition organises Tools and Techniques in 6 different groups.
However, quite a few are also UN-GROUPED.
The Groups are: Data Gathering | Data Analysis | Data Representation | Decision Making | Communication Skills | Interpersonal and Team Skills
This Dashboard allows you to understand the structure of the Groupings of Tools and Techniques, which T&T is used in one or many processes, …
With multiple filtering options you can drill down to see Tools & Techniques with different perspectives.
---
Dashboard 4: Processes Data Flow Detailed Dashboard
---